CORPORATE  PRESS  RELEASES  (INDIA) news desk, February 1,2012
http://edition.cnn.com/2012/02/01/world/europe/uk-wikileaks-assange/index.html?hpt=hp_t3#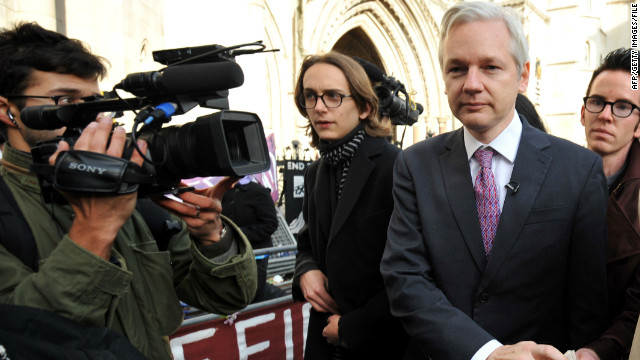 By the CNN Wire Staff
February 1, 2012 — Updated 0623 GMT (1423 HKT)
WikiLeaks founder Julian Assange leaves the High Court in London on December 5 in his fight against extradition.
London (CNN) — WikiLeaks founder Julian Assange's extradition fight goes to Britain's Supreme Court on Wednesday for two days of hearings on whether he should be sent back to Sweden to face allegations of rape and sexual assault.
In November, Assange — who is under house arrest — lost a court battle to stay in Britain. The following month, the British High Court said he would be allowed to mount an appeal.
Assange's lawyers have vowed to take the fight all the way to the European Court of Human Rights if necessary.
Two women in Sweden accused Assange in August 2010 of sexually assaulting them.
Although he has not been charged with a crime, Swedish prosecutors want to question him in connection with the allegations.
Swedish authorities allege that one unnamed woman agreed to have sex with him only if he wore a condom, and that he then had unprotected sex with her while she was asleep.
Assange denies wrongdoing and says the case is politically motivated.
The extradition case is not linked to Assange's work as founder and editor-in-chief of WikiLeaks, which has put him on the wrong side of U.S. authorities.
His organization, which facilitates the anonymous leaking of secret information, has published some 250,000 confidential U.S. diplomatic cables, causing embarrassment to the government and others.
It has also published hundreds of thousands of classified U.S. documents relating to the conflicts in Iraq and Afghanistan.
But the organization has come under increasing financial pressure in recent months, leading Assange to announce in October that WikiLeaks was temporarily stopping publication to "aggressively fundraise" in order to stay afloat.
Assange is fighting extradition to Sweden over sex assault claims
The WikiLeaks founder denies wrongdoing and says the case is politically motivated
                          ===================================