CORPORATE PRESS RELEASES (INDIA) referral newsdesk, January 28,2016
SOURCE :: http://indianexpress.com/elections/uttar-pradesh-assembly-elections-2017/uttar-pradesh-polls-bjp-manifesto-draws-flak-from-political-rivals-4496306/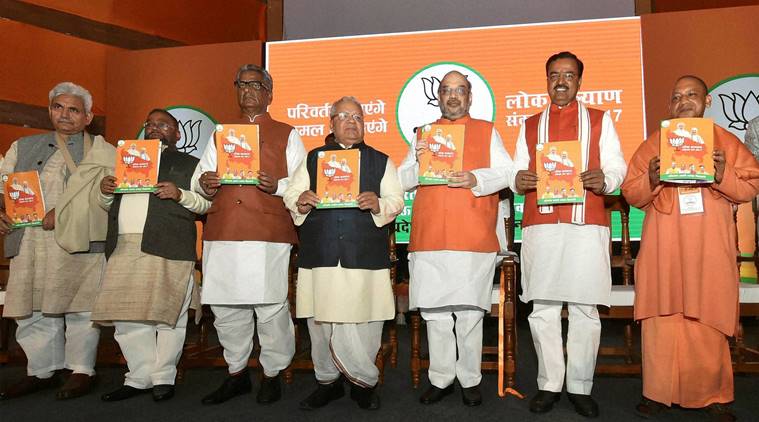 Lucknow: BJP President Amit Shah with UP BJP chief Keshav Prasad Maurya and others releasing party manifesto for the upcoming Uttar Pradesh assembly elections in Lucknow on Saturday.PTI Photo Nand kumar(PTI1_28_2017_000116A)
BJP's manifesto released in Lucknow on Saturday amid much fan fare drew sharp criticism from its political opponents with the BSP terming it as another attempt to hoodwink Uttar Pradesh voters and Congress dubbing it as a "bundle of lies". The Ruling Samajwadi Party too termed the manifesto as a bundle of lies and said after getting majority on false promises, the saffron party showed total insensitivity and behaved irresponsibly in almost three years of its government at the Centre.
Trashing the manifesto as another attempt to hoodwink the people of Uttar Pradesh, BSP chief Mayawati said the party which failed to fulfil its earlier promises has no moral right to bring a document of pledge. "After failing to fulfil the 'achche din' promise made during the 2014 Lok Sabha elections, BJP has no moral right to bring out this manifesto…it is another attempt to hoodwink people of the state," she told mediapersons after release of the document by BJP chief Amit Shah.
"BJP and its Prime Ministerial candidate Narendra Modi had made a slew of promises and allurements to the people of the country and Uttar Pradesh as well like bringing achche din, but now they are not even on the agenda of the Centre…not even one-fourth of these promises have been fulfilled," she claimed. The promises made in the manifesto on Saturday are hollow, she added.
Congress also hit out at BJP, terming the manifesto as a bundle of lies and alleged that it was out to rake up the Ram temple issue once again to hide its shortcomings. "People are now well aware that BJP does not desist from betraying even Lord Ram," UP PCC chief Raj Babbar said in a statement. The manifesto has no mention of how many labourers and workers lost jobs and suffered due to the note ban, he said, adding the BJP chief is promising setting up of task force to deal with mining mafia but maximum illegal mining takes place in BJP-ruled states like Chhattisgarh, Jharkhand and Madhya Pradesh.
"Have these states got task force for the purpose have the governments in these states launched any campaign against the mining mafia," he asked. The BJP manifesto is a "document of lies" based on false promises aimed at misleading the people, Babbar said.
            ========================