CORPORATE  PRESS  RELEASES  (INDIA)  referral newsdesk,  June 28,2014
SOURCE ::  http://www.ndtv.com/article/india/tiger-pulls-man-from-boat-in-india-549350?pfrom=home-lateststories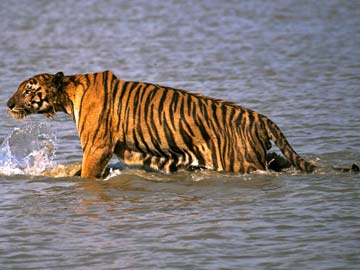 In this Saturday, April 26, 2014, photo, a Royal Bengal tiger prowls in Sunderbans, at the Sunderban delta.
New Delhi:  A man poaching crabs in an eastern Indian tiger reserve was killed by a tiger that leapt into the man's boat and dragged him into a mangrove swamp in front of his son and daughter.
The man, Sushil Majhi, had guided his boat into a prohibited area of the Sundarbans Tiger Reserve in the eastern state of West Bengal on Thursday. Majhi's son, Jyotish Majhi, told local reporters that the tiger pounced on his father from out of nowhere, dragged his body into the swamp and disappeared. Sushil Majhi's body has yet to be recovered, the authorities said.
The Sundarbans is one of the world's largest mangrove forests, extending from Bangladesh through the eastern part of India along the Bay of Bengal. It is one of the largest reserves for the Bengal tiger, and nearly a dozen people who enter the park are killed by tigers every year.
Officials have tried to keep people and tigers separated with 8-foot-high fencing, but neither India nor Bangladesh has the personnel needed to police the reserve. Local residents often enter the reserve in search of game, fish and honey.
"It is the human beings and not the tigers that break the fencing," said Kishor Mankar, deputy field director of the Sundarbans Tiger Reserve.
Lipika Ray, a divisional forest officer, agreed.
"We keep on warning the fishermen not to go to the prohibited area, but they do not follow the instructions," Ray said.
Crab poaching is particularly tempting, Mankar said, because the price of crabs has risen to $10 per kilogram.
Tigers rarely leave the reserve, and when they do they generally kill goats and not humans, Mankar said.
                ================================