CORPORATE PRESS RELEASES (INDIA) referral newsdesk, October 29, 2016
SOURCE ::  http://www.msn.com/en-in/news/newsindia/right-hand-inflamed-jayalalithaa-signs-off-poll-papers-with-thumb-print/ar-AAjxx1w?li=AAggbRN&ocid=SK2DDHP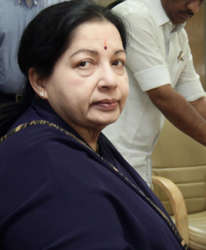 [ In Yagna For Jayalalithaa, 200 Priests, 3,000 'Devotees' And Free Saris ]
A document filed by her party's Tiruparangundram candidate A K Bose on Friday for the upcoming by-elections in the Tiruparangundram assembly constituency on the 19th of November carried an impression of her left hand.
Her thumb impression is also seen in five places on a letter given by her party intimating the Chief Electoral Officer, their official candidate.
The thumb impressions have been authenticated by Dr P Balaji, Professor of Minimal Access Surgery, Madras Medical College.
A note by him added, "The signatory has undergone trachestomy recently and has an inflamed right hand she is temporarily unable to affix her signature. Hence she has affixed her left thumb impression on her own in my presence."
The last health update issued by her doctors last week said, "She is interacting and gradually progressing."
A specialist from London and three doctors from AIIMS are treating Ms Jayalalithaa besides a team of doctors from Apollo Hospitals.
Although several leaders including Governor Vidyasagar Rao, BJP President Amit Shah, Congress Vice President Rahul Gandhi, Tamil Nadu opposition leader M K Stalin visited the hospital, none have been able to meet her.
Earlier this month, governor shifted the portfolios she held including Home and Police among others to her Finance Minister O Panneerselvam and authorised him to chair cabinet meetings.
Twice in the past he was her chosen loyalist to be a stand-in Chief Minister when she had step down following her conviction.
            ============