CORPORATE  PRESS  RELEASES  (INDIA)  news desk, March 01, 2013
http://www.ndtv.com/article/cities/rahul-gandhi-in-mumbai-with-a-maha-agenda-336834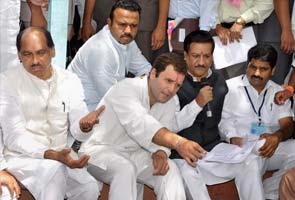 MUMBAI : Rahul Gandhi is visiting Mumbai for the first time after he took over as Vice President of the Congress party.
Mr Gandhi, who arrived at 9:30 am this morning, headed straight to Tilak Bhavan, the party headquarters in central Mumbai. He will spend the entire day meeting with senior leaders and junior workers of the party in Maharashtra.
During these meetings, Mr Gandhi will get a picture of party in the state and it may not be pretty.
For nearly 15 years, the Congress has been in power in Maharashtra with its partner, Sharad Pawar's Nationalist Congress Party (NCP); lately, the alliance has been squeaking publicly, showing signs of wear and tear.  The state will choose its next government in Assembly polls scheduled to be held along with the national elections next year.
In Mumbai, the Congress is deeply fissured.  The Congress has 16 state legislators or MLAs and five parliamentarians representing Mumbai alone.
The party also needs to focus on how to combat anti-incumbency, at a time when some of its senior leaders in Maharashtra have been tainted by charges of corruption.  Ashok Chavan had to resign as Chief Minister over allegations that he was involved in a scam that saw apartments in a high-rise facility meant for war widows and veterans being divided illicitly among bureaucrats and politicians.
The Congress' infirmities were exposed in last year's elections for the municipal corporation of Mumbai, a powerful body that handles an annual budget of over Rs. 20,000 crore.
The Congress won just 50 of the 227 municipal corporation seats.  Its ally, the NCP, could only manage 17. Incidentally, it was the first time that the Congress and NCP had come together to contest municipal elections in Mumbai.
The president of the Congress' Mumbai branch, Kripashankar Singh, was blamed for promoting factionalism.  He resigned in February last year later after charges of corruption.
He has not been replaced in a year, leaving the Congress headless in the financial capital of the country months before state and general elections.
                         ============================