CORPORATE  PRESS  RELEASES  (INDIA)  referral  newsdesk, July 26, 2015
SOURCE ::  http://indianexpress.com/article/india/india-others/nitish-kumar-gets-back-at-modi-accuses-him-for-not-honouring-promises/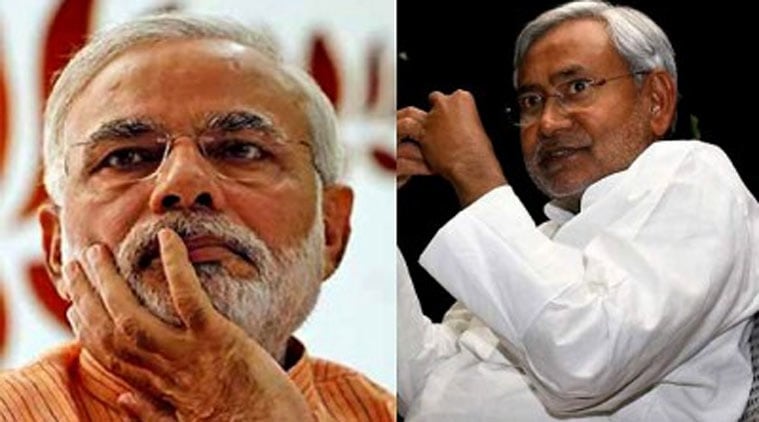 Meanwhile, RJD chief Lalu Prasad termed BJP as "Bharat Jalao Party". "Modi is trying to create differences between me and Nitish," he said. – See more at: http://indianexpress.com/article/india/india-others/nitish-kumar-gets-back-at-modi-accuses-him-for-not-honouring-promises/#sthash.WYGGdYsJ.dpuf
Hours after Prime Minister Narendra Modi targeted Bihar Chief Minister Nitish Kumar at a rally in Muzaffarpur, the latter issued a point-by-point rebuttal of the charges.
According to Nitish Kumar, there was no clarity on the PM's special package for Bihar. Though Bihar was being given an increased amount by latest Finance Commission, it had not got percentage-wise increase in its share, the CM said. "Earlier, Bihar had got Rs 1.5 lakh crore out of total Finance Commission budget of Rs 14.55 lakh crore. We are now getting Rs 3.75 lakh crore out of Rs 38.48 lakh crore total fund," said Nitish.
The CM also took a dig at Modi for telling the crowd in Muzaffarpur to "give me a chance." He asked whether Modi was willing to "take additional charge of Bihar CM." Nitish also responded to Modi's comments on him not "treating well" a leader like George Fernandes. "First, it does not behove of the PM to engage in such talks. Secondly, how about BJP ill-treating its big leaders LK Advani and MM Joshi, who are hale and hearty unlike George Fernandes", asked Nitish.
================================