CORPORATE  PRESS  RELEASES  (INDIA)  news desk, September 24,  2013
http://www.ndtv.com/article/world/massive-earthquake-in-pakistan-tremors-felt-in-delhi-north-india-423073?curl=1380029689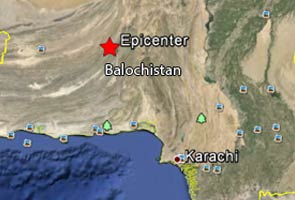 The quake struck at 4:29 pm local time (1659 IST) around 100 kilometres southwest of the city of Khuzdar in Baluchistan province, at a depth of 15 kilometres.
The area of the epicentre is sparsely populated, but the USGS issued a red alert for the quake, warning that heavy casualties were likely, based on past data.
Officials said the tremors had demolished dozens of mud houses in Awaran district, 350 kilometres southwest of provincial capital Quetta.
Jan Muhammad Baledi, a spokesman for the Baluchistan government said an emergency had been declared in Awaran.
"We have received reports that many homes in Awaran district have been collapsed. We fear many deaths of people," he said on ARY news channel.
"There are not many doctors in the area but we are trying to provide maximum facilities in the affected areas."
Television footage showed collapsed houses, caved in roofs and people sitting in the open air outside their homes, the rubble of mud and bricks scattered around them.
A senior Pakistani meteorologist, Muhammad Riaz, told Dunya TV station it was a "major" earthquake and "heavy destruction" was likely.
Tremors were felt as far away as New Delhi, while office workers in the city of Ahmedabad near the border with Pakistan ran out of buildings and into the street.
Mumtaz Baluch, senior local administration official in Awaran district, told AFP: "There are reports of houses being collapsed in the district due to the earthquake."
"We also have initial information about injuries to people as a result of the collapse of houses but there are no reports of any deaths."
"We have dispatched our teams to the affected area to ascertain the losses."
Abdul Qudoos Bizinjo, deputy speaker Baluchistan Assembly told Dunya TV there were reports of "heavy losses" in Awaran. Damage to the mobile network was hampering communication in the area, he said.
In April a 7.8-magnitude quake centred in southeast Iran, close to the border with Baluchistan, killed 41 people and affected more than 12,000 on the Pakistan side of the border.
People working in offices Karachi rushed out of their building and sat on the footpaths along the roads or stood away from the buildings.
"My work table jerked a bit and again and I impulsively rushed outside," Noor Jabeen, a 28-year woman working for an insurance company said while breathing heavily.
"It was not so intense but it was terrible," said Owais Khan, who works for a provincial government office.
"Whenever I feel jolts it reminds me of the 2005 earthquake in Kashmir," said Amjad Ali, 45, IT official standing on the road said.
A 7.6 magnitude quake in 2005 centred in Kashmir, killed at least 73,000 people and left several million homeless in one of the worst natural disasters to hit Pakistan.
                              ===============================