CORPORATE PRESS RELEASES (INDIA) referral newsdesk, February 28,2018
SOURCE  ::  https://www.msn.com/en-in/news/newsindia/karti-chidambaram-arrested-by-cbi-in-money-laundering-case/ar-BBJGu5z?li=AAggbRN&ocid=SK2DDHP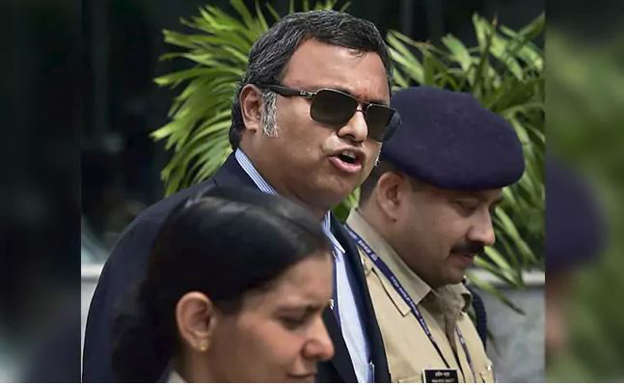 NEW DELHI: Senior Congress leader P Chidambaram's son Karti Chidambaram was arrested in Chennai today in a corruption case, sources said. He is accused of receiving kickbacks to clear foreign investment worth around Rs. 300 crore in television company INX Media, using the influence of his father, who was then the Union finance minister.
The initial case registered against him mentioned that he received 10 lakh, but sources in the CBI said there is now evidence that he received more. A new case will be registered against him on basis of fresh information, sources said.
The 46-year-old businessman was taken into custody after he landed from a flight from London this morning. He is currently being questioned inside the airport by officials of the Central Bureau of Investigation and will be brought to Delhi later in the day, sources said.
The Congress said the arrest was "vindictive politics" and a "classic diversionary tactic of the government to hide their own corrupt governance model that is being exposed on a daily basis– be it Nirav Modi, Mehul Choksi, Dwarka Das Seth Jewellers."
The Chidambarams have denied the allegations, calling it the result of political vendetta. Last week, P Chidambaram appealed to the Supreme Court, saying he was the "real target" of the BJP-led Central government and his fundamental rights were being violated.
In May last year, the Enforcement Directorate filed a case against Karti Chidambaram. The CBI filed a separate case against him.
The CBI said Karti Chidambaram also received money from INX media to scuttle a tax probe. The firm was owned at the time by Peter and Indrani Mukerjea, who are currently in jail on charges of murdering Ms Mukerjea's daughter Sheena Bora.
The two agencies carried out a string of raids on the houses and offices owned by the Chidambarams. Karti Chidambaram was questioned several times.
A lookout notice, which alerts airports to stop a passenger from traveling abroad, was also issued against him as the agencies suspected that he would try to close the foreign accounts where he had parked the money from the kickbacks. In November, the Supreme Court allowed Karti Chidambaram to go to the UK for his daughter's admission in the Cambridge University.
======================