CORPORATE PRESS RELEASES (INDIA) referral newsdesk, May 31 2016
SOURCE :: http://www.dnaindia.com/india/report-fire-at-pulgaon-arms-depot-sonia-and-rahul-express-shock-and-deep-anguish-2218515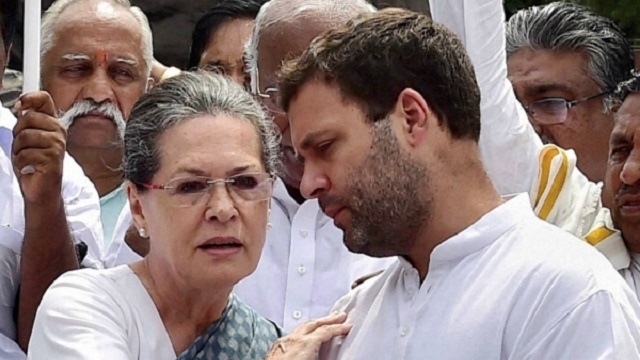 Congress President Sonia Gandhi and Vice President Rahul Gandhi today expressed shock & deep anguish at the death of 16 people, including two Army officers, in blasts and fire that ravaged one of Asia's biggest ammunition depot in Maharashtra's Pulgaon.
Extending her condolences to the family members of the deceased, Sonia Gandhi hoped that the injured were being taken care of and ample efforts were being undertaken to limit and control the damage.
"Deeply saddened and pained to learn of the deaths of Jawans and Officers in the fire at Central Ammunition Depot in Maharashtra. "My prayers are with the families of the victims. I hope those injured in the accident are given due medical care and support," Rahul Gandhi tweeted.
At least 16 people, including two Army officers, were today killed in blasts and a massive blaze which ravaged the ammunition depot that houses the largest stockpile of weapons in the country.
Defence Manohar Parrikar said: "Sixteen lives have been lost, they sacrificed their lives to ensure that the fire doesn't spread I am deeply pained at the loss of lives, they sacrificed their lives and managed to contain fire. The fire has been doused but we're monitoring the monitoring the situation."
The fire which started at 1.00 am at one of the sheds that housed "highly sensitive ammunition" in the high security central ammunition depot (CAD), spread over 7,000 acres, has been completely doused and the situation brought under control after an overnight operation. "However, in efforts to douse the fire, two officers and 14 personnel (to include one Army jawan and 13 civilian fire fighting staff) lost their lives and two officers and 15 personnel (to include nine Army Jawans and six civilian fire fighting staff) were injured," Director General of Military Operations Lt Gen Ranbir Singh told reporters in New Delhi. Loud explosions were heard one after the other as the raging firelit up the night sky. The cause of the fire is yet to be ascertained and the Army has instituted an inquiry into the incident, Singh said.
"Actions to assess the damage are in progress," the DGMO said. The Army had earlier put the casualty at 17 which has now been revised to 16. It had also earlier said the majority of personnel killed were Defence Security Corps jawans.
Following a directive from Prime Minister Narendra Modi, Defence Minister Manohar Parrikar, who was in Pune, rushed to the spot. Army Chief Gen Dalbir Singh Suhag also visited the site. Modi tweeted, "Pained by loss of lives caused by a fire at central ammunition depot in Pulgaon, Maharashtra. My thoughts are with the bereaved families. "I pray that those who are injured recover quickly. Have asked RM @manoharparrikar to visit the spot & take stock of the situation", he said.
                      =====================