CORPORATE PRESS RELEASES (INDIA) referral news desk, February 08,2017
SOURCE ::  http://www.thehealthsite.com/news/dr-ramakanta-panda-performed-a-high-risk-surgery-on-mumbai-woman-asha-who-lost-weight-and-went-from-60kg-to-35kg-b0217/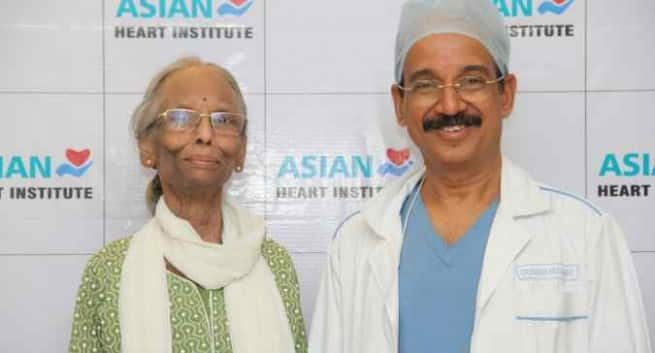 Asha Pathak, a 68-year-old, has worked as a manager for 27 years. She has travelled all over India and the world. She was living her life to the fullest as she travelled to new places often. However, she had no way of knowing that her trip to Nepal in 2015 would be her last trip. It the same year when Nepal had experienced the disastrous earthquake affecting many lives. Although she was among the few people who left the place first and without a single scratch, she believes it was after that that started feeling ill. For a person who was never hospitalised in her life, spending around two months in a hospital was the worst nightmare. Here is her story from being diagnosed with a stomach problem to successfully recovering from two surgeries — complex valve replacement and bypass surgery at Asain Heart Institute.
60 Kgs to 35 kgs — Weight loss worries
It all started in August 2015, when she was diagnosed with a condition of the small intestine, known as volvulus of the small intestine. In simple terms, this condition causes twisting of the intestinal loop hindering blood flow, which can even lead to gangrene. Although she underwent surgery for the health problem, it was the post-operative complications that took a toll on her life. After the surgery, she didn't have any appetite for nearly three months. And this was the time she started to lose weight drastically. From a woman who used to weigh 60 – 61 kgs before the surgery, she weighed merely 35 kgs when she was admitted to Asain Heart Institute to treat heart blockages. Asha Phatak  lost 25 kgs in the last one and a half year due to her heart condition.  Read 10 reasons why unexplained weight loss is a serious problem!
2016 – She had a heart failure
Asha was clueless about her severe weight loss. She consulted her doctor only to know that her heart was not functioning properly and needed to consult a heart specialist to get treated. However, on 22nd November, she felt restless and was rushed to the Asian Heart Institute (AHI). 'She was in a critical condition and had suffered a congestive heart failure, which happens when the heart cannot pump enough blood and oxygen to support other organs in your body. She also had fluid in her lungs and low blood pressure,' said doctors at AHI.
After a series of tests including an angiography, it was revealed that she had three blockages, of which two major heart blockages were on Left Anterior Descending Artery and Ramus Intermedius and narrowing of a heart valve. The aortic valve narrowed and the blood flow to the heart was severely impaired. Her heart was very weak and only performing a0-25% of the pumping function. This is the reason, why she needed to undergo both bypass surgery and aortic valve replacement.
Dr Ramakanta Panda: "I refused the patient initially."
Yes, Dr Ramakanta Panda renowned cardiovascular thoracic surgeon and vice chairman Asian Heart Institute had refused to operate Asha not once but twice. However, it was the patient's strong will power that made Dr Panda and his team successfully perform both the surgeries and revive her weak heart. Dr Panda says, "The patient's heart was weak with just 25 % heart function. She had two major blocks and narrowing heart valve, which required two surgeries. Besides, she was extremely fragile and weighed only 35 kgs at the time of operation. All these factors brought together made this a highly complex and risky operation not just for the patient but also for the doctors."
He further added that although he had handled 3,500 complex cases, this one was very complicated. The risk was around 90% taking into account her condition, age, body weight and other clinical parameters. Also, the body has to recover post surgery, which becomes very difficult if a person is on the lower side of the weighing scale. But Asha, being a daughter of an army personnel, was determined to get the surgery done at any cost. And it was because her positive approach and strong will power that the doctors after many discussions and initial reluctance agreed to do the surgery.
Surgery and recovery
Asha Phatak was in the ICU for 19 days before the surgery. Despite 90% risk, Dr Panda along with his team of doctors performed both the surgeries. In a 10-hour long surgery, doctors performed part of her bypass surgery (2 grafts — Left Anterior Descending Artery and Ramus Intermedius) with the beating heart technique and part with the help of a heart-lung machine. After the bypass surgery, her heart was stopped to replace the narrowed valve with the new one. She was immediately shifted to the ICU after the surgery and was put on a ventilator support. She was in the ICU for 41 days post the surgery till the time of her discharge from the hospital in January. As anaesthesia makes the body weak and even paralyses the body and lungs, she was put on a ventilator for a quick recovery. Although she could not talk for 31 days of the 41 days because of being on a ventilator, always smiled with her thumbs up every time doctors visited her. Dr Panda said that Phatak's positive attitude towards life contributed immensely to her speedy recovery.
As far as diet was concerned, she was initially she was given fluids through a tube near the neck and then through the nose. Bhairavi, Asha's daughter, who has spent two months with her in the hospital taking care of her mother said that post operation there are no problems with her Mom till now. In fact, she doesn't follow any special diet but eats everything as there are no diet restrictions. It's been around 15 days that she is discharged and even her weight has shown some improvement. She weighs 37 kgs now and was been told to monitor her weight and regard any weight loss as a red flag.
Here's wishing Asha a healthy and happy life!
Image Source: Asian Heart Institute
Published: February 8, 2017 12:48 pm
=================================
        =================================
Disclaimer: TheHealthSite.com does not guarantee any specific results as a result of the procedures mentioned here and the results may vary from person to person. The topics in these pages including text, graphics, videos and other material contained on this website are for informational purposes only and not to be substituted for professional medical advice.
=================================
        =================================