CORPORATE  PRESS  RELEASES  (INDIA)  news desk, July  31,  2013
http://www.tribuneindia.com/2013/20130731/cth1.htm
Chandigarh, July 30


A 17-year-old Class XI student of Government Model Senior Secondary School, Sector 23, allegedly committed suicide by jumping into the Sukhna Lake last night. The body of the girl, Anjali Goyal, was recovered from the lake around midnight after the last tower location of the girl's mobile phone was traced to the lake.
Anjali had left her Mohali Phase 3B I residence at around 7 pm yesterday on her Activa scooter. She told her parents that she was going to a temple as she had kept a fast on Monday.
When she did not return home till 9 pm, her parents launched a search for her. She did not respond to her parents' repeated phone calls, who then went to the Mataur police station to lodge a missing report.
The police tracked her phone and her last tower location was shown to be at the Sukhna Lake at 8.40 pm. Her parents, along with the police, went to the lake where they requested the UT police to find the missing girl. The Activa scooter of the girl was found near the stairs at the lake.
The police recovered Anjali's body, which was found floating in the lake waters near the tower, at around midnight. The police said she probably jumped from near the tower where the water level was around 10 ft deep. The girl was taken to the PGI, where she was declared brought dead.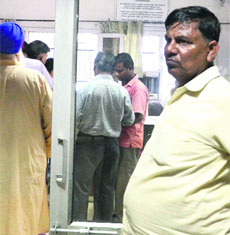 Anjali's father Sunil Goyal, a businessman, said the UT police was initially reluctant to help them but later it agreed and found the girl's Activa scooter.
One of Anjali's relatives said she was observing a fast yesterday and had gone to a nearby temple to pay obeisance on her Activa scooter.
Her uncle, Jeewan Goel, said when they reached the lake, there were no lights there and it was pitch dark. "Had the search lights at the lake been on, someone could have spotted our child and saved her," said Goel.
The girl's postmortem was conducted at Government Multi-Specialty Hospital in Sector 16. The postmortem report revealed that she died due to drowning. No suicide note was found from the spot.
Poor police patrolling
The incident has exposed poor police patrolling at the lake. No policeman was at the spot near the tower from where the girl is believed to have jumped to death at around 10 pm. In fact, the girl's parents had to coerce the police to look for the girl at the lake. There is a police post at the lake. However, none of the police officers on duty had any clue about the girl having come there at night and committing suicide.