CORPORATE  PRESS  RELEASES  (INDIA)  referral newsdesk, July 03,2014
SOURCE  ::  http://zeenews.india.com/news/nation/army-chief-holds-talks-with-top-brass-of-china-s-pla_944698.html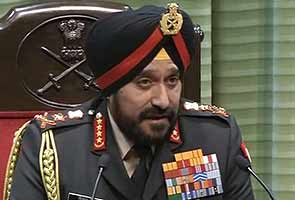 Beijing: Army Chief General Bikram Singh, who is in China on a four-day official visit, on Thursday held talks with People's Liberation Army (PLA) Chief of General Staff Fang Fenghui here.
The Indian Army Chief's visit to China comes after a nine-year gap. The then Army chief Gen NC Viz had visited China in 2005.
Later in the day, Gen Singh is scheduled to meet Vice Chairman of China's Military Commission General Fan Changlong, the all powerful body headed by President Xi Jinping which controls all wings of the armed forces.
General Singh, also the Chairman of the tri-services Chiefs of Staff Committee, is scheduled to meet Vice President Li Yuanchao besides Vice Executive Foreign Minister Zhang Yesui.
Tomorrow, he is due to address cadets of the National Defence University here and later travel to Shanghai on July 5 where he would visit a Chinese naval ship.
Commenting on General Singh's visit, the PLA said it is of "great significance" as it aimed at strengthening high-level strategic communication and mutual trust between the two militaries.
The visit is of great significance as it contributes to healthy and steady development of Sino-Indian relations as well as the ties between the two armed forces and create a good atmosphere, the Chinese Defence Ministry told a news agency.
Relations between the two armies, the regional security situation besides the issues of common concern and exchanges will come up for discussion between General Singh and the Chinese military officials, the ministry said.
The two sides will implement consensus reached by the leaders of the two countries to strengthen border exchanges and cooperation between the two armies to jointly safeguard the peace and tranquillity in the border areas, it said.
General Singh's visit is an important event in this year's planned military exchanges under the ongoing 'Sino – Indian Friendship Exchange Year', it said.
His visit comes after the just concluded tour of Vice President Hamid Ansari and ahead of the first meeting between Chinese President Xi and Prime Minister Narendra Modi on the sidelines of the BRICS summit in Brazil later this month.
              ==============================